Fabian Gutiérrez Cortés is a Doctor of Architecture at the Institut Parisien de Recherche Architecture Urbanistique Société. He focus on architectural theories and practices around South America, Oceania and Europe. He developed an interest in 3D modeling and parametrical digital fabrication by attending workshops in Barcelona and Paris.

He specialized in vernacular and traditional space production as well as more contemporary projects. His thesis is based on a connexion between these two modes of architectural production in land surface areas affected by the increase of sea levels due to climante change.
Vulnerability and territorial adaptation to the effects of climate change, perspectives of an island habitat in the micro city of Funafuti, Tuvalu.

How does the architecture can meets the needs of our curent reality taking into consideration the climate crisis?
In this study Fabian Gutierrez will analyze the increase of the ocean level and the reduction of the habitable space of the city of Funafuti, Tuvalu in Polynesia.

Tuvalu is a Polynesian archipelago, which is very sensitive to the increase of the water level and that faces a gradual disappearance of the cultural heritage, material and immaterial.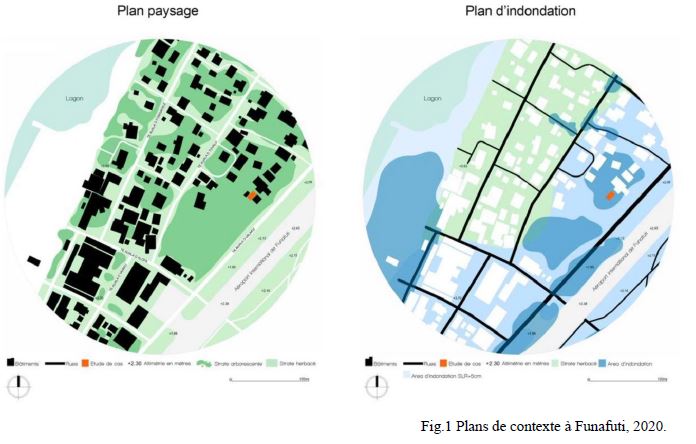 There is a decrease in living space at the urban level and traffic and public spaces are flooded and modified. There is also a decrease in wetlands and a disappearance of plant species that protect the island from erosion.
The study focuses on a period from 1945 to 2016 and its research methodology consists in the retrospective study of the process of adaptation of morphological, typological and symbolic devices, according to variations, interactions and evolution of geographic and urban strata.
In the case where the inhabitants doesn't want to leave, there are mechanisms of adaptation and hybridization of human activities that reconfigure the urban fabric. These modifications allow continuity of traditional habitat patterns and uses.
click here to read the article