Although we have gotten accustomed to what masks hide from us, Hélène Guétary shows, through her creative project, how our expressions and gestures can be reinvented, loaded with references to our environment.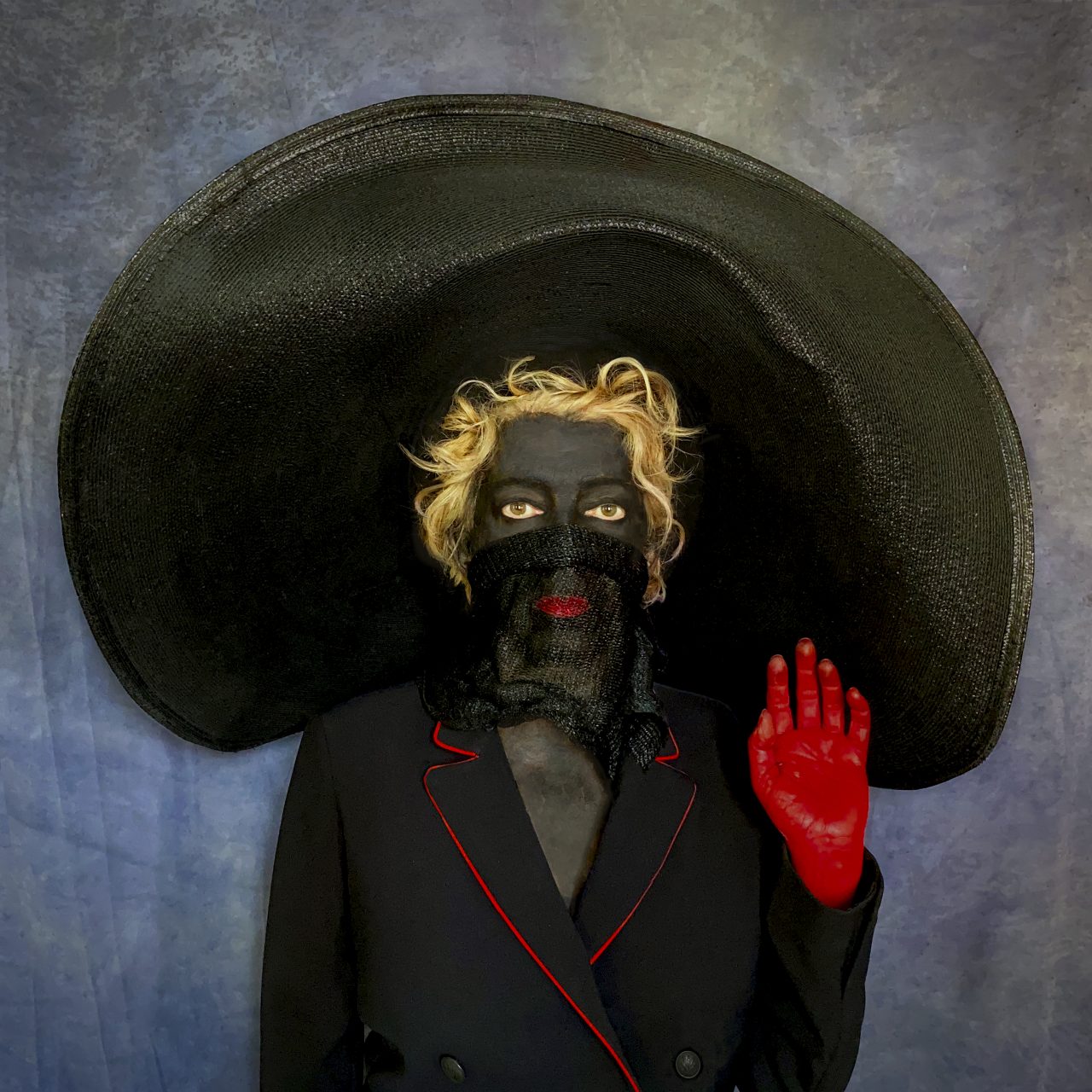 Between anxiety and hope, I came out of the first Paris lockdown on May 11, 2020 to rejoin the outside world, rediscovering the familiar streets and places outside my home that had been deserted for eight weeks.
Probably like most of the humans on our planet returning to their usual environment, I felt unsettled by the new vision of the masked men, women and kids, the latex gloves, let alone the much-needed plexiglas partitions to protect us from each other in taxis, stores, and public places.
I realized that we had stepped into a world in which all of us will be masked from now on, while we wait for an outcome that no one can yet fathom.
Between anxiety and hope, we had entered an uncertain new realm where we cannot see our fellows' smiles, where we cannot freely touch, hug, or caress anybody anymore. Spontaneity can only express itself through our eyes and our voices, and they are not enough to express what our full face would say.
Human distancing has come on top of social distancing. Along with this sad assessment, we also have to face the widespread disarray, the confusion of the media, the impermanence of Truth, the creepy feeling that information is as masked as we are.
Fear and uncertainty are our new companions, and we are losing our minds.
Between anxiety and hope, to gather up my vitality and spirits, I took refuge in the world of my images. It felt like an urgency to exorcize the vision of invisible mouths, covered skins, concealed chins, sheltered bodies.
I couldn't avoid our new reality, so I had to transgress it. Instead of getting lost in it, I decided to make sense out of it by reclaiming the other primordial functions of the mask—to reveal, to hide, to transform, or to question. The power to ritualize, to call protective spirits. The capacity to spread joy, to accompany our dances, our venerations, and our hopes.
I set off to explore another Masked World, to celebrate the masks that have been accompanying us since the dawn of time. I let myself be guided by images and symbols that roamed around in my brain, probably dropped off in there by some benevolent ancestors. I suddenly imagined putting on the antlers of a deer as a reminder to our destiny that we will soon reconquer our bodies and spirits. I covered my face with black paint to symbolically mourn the loss of our freedoms. I coated myself with flowers to enjoin Spring to come back to planet Earth. I painted my face in many colours to celebrate all the colours of human skin, the colours of human emotions. I fought against pollution by wearing a mask of smoke, I put on one made of flames to ward off the fires of the world. I borrowed the colour of the Caribbean ocean to capture its energy in my net, and I gathered my favourite feathers to look like a hybrid bird…
Day after day, as in a rite of passage, I let my inspiration dictate my next images, I embraced my anxiety to transform it into hope.
In this way, I hope to transmit it to the beholder.
Welcome to my Masked World. Bienvenue dans mon Monde Masqué.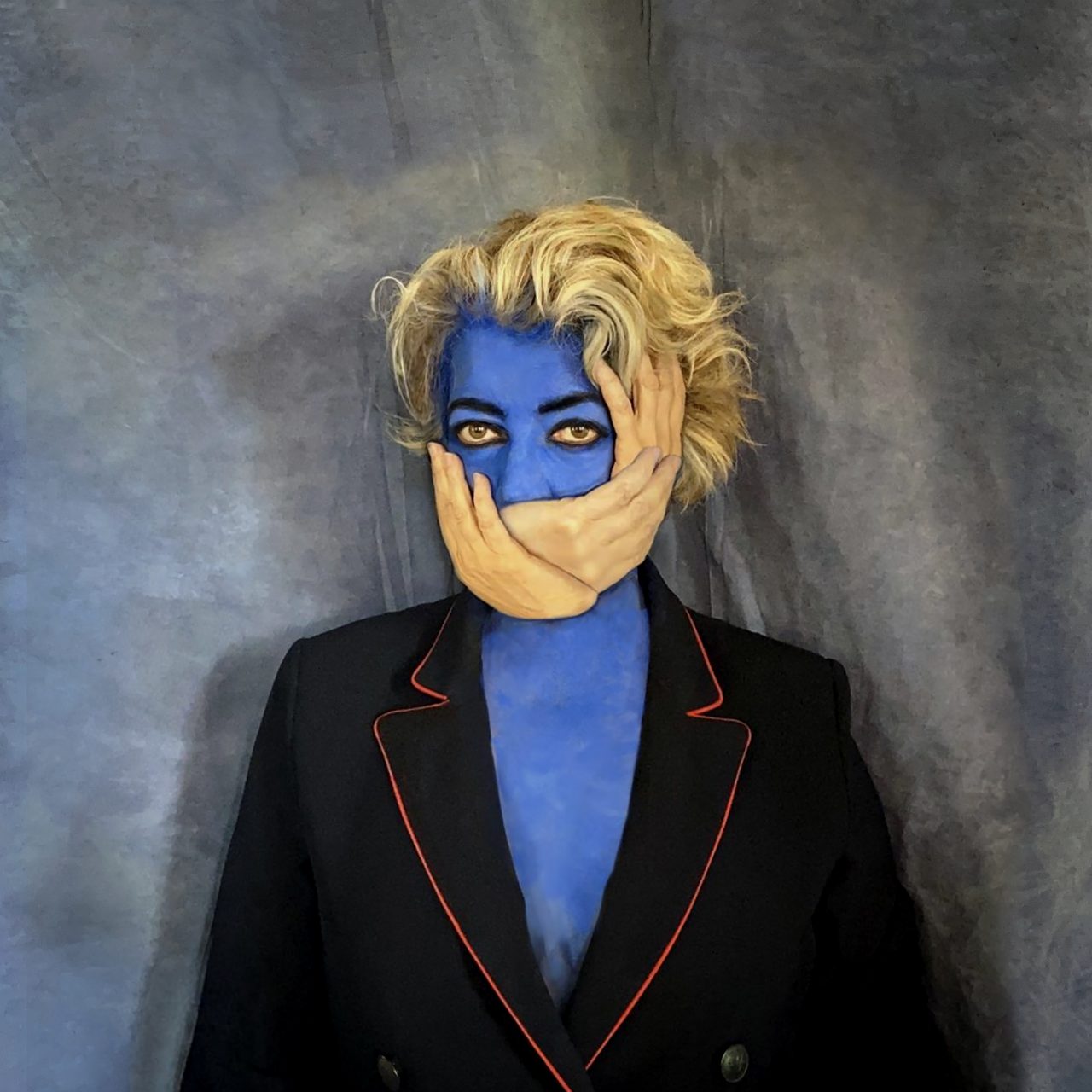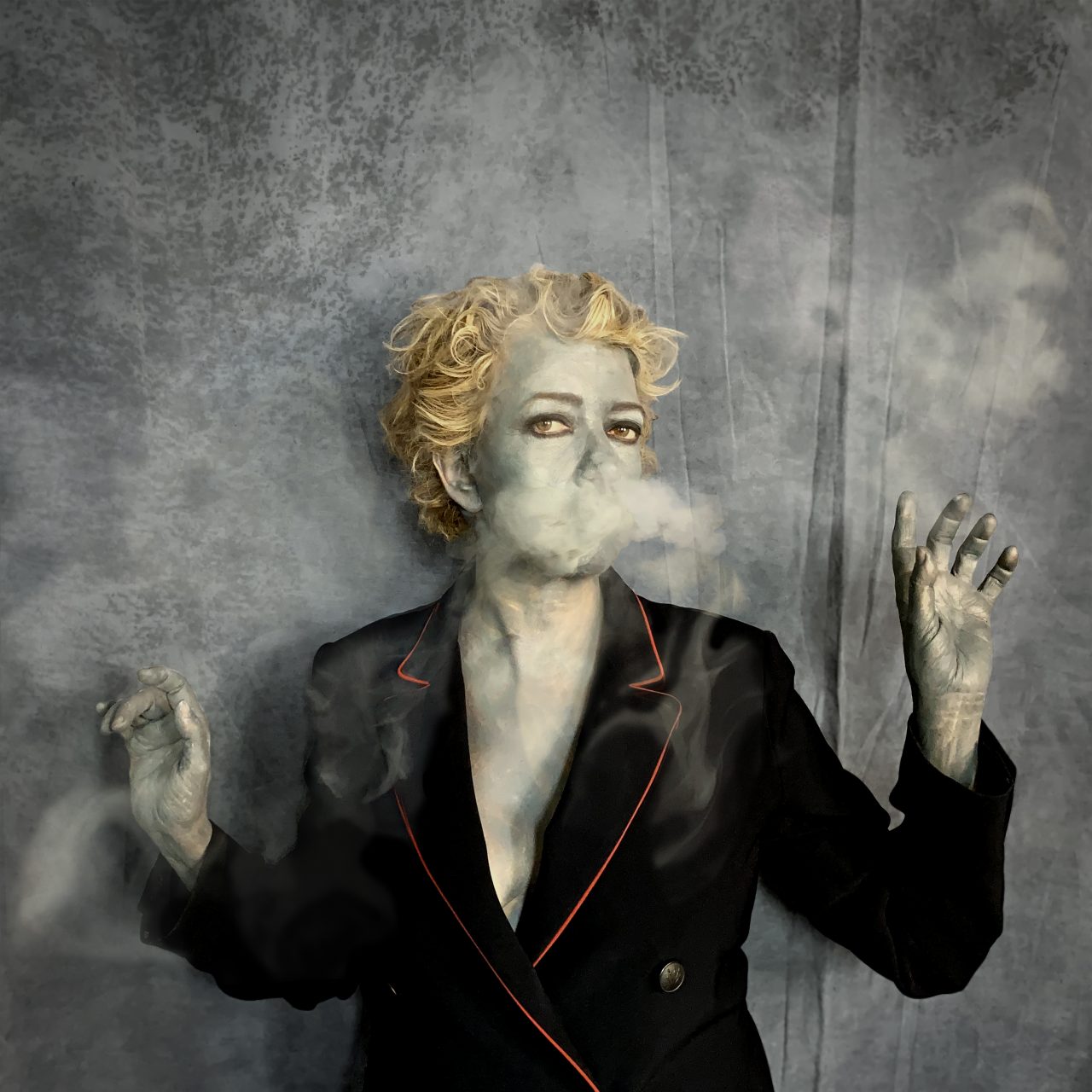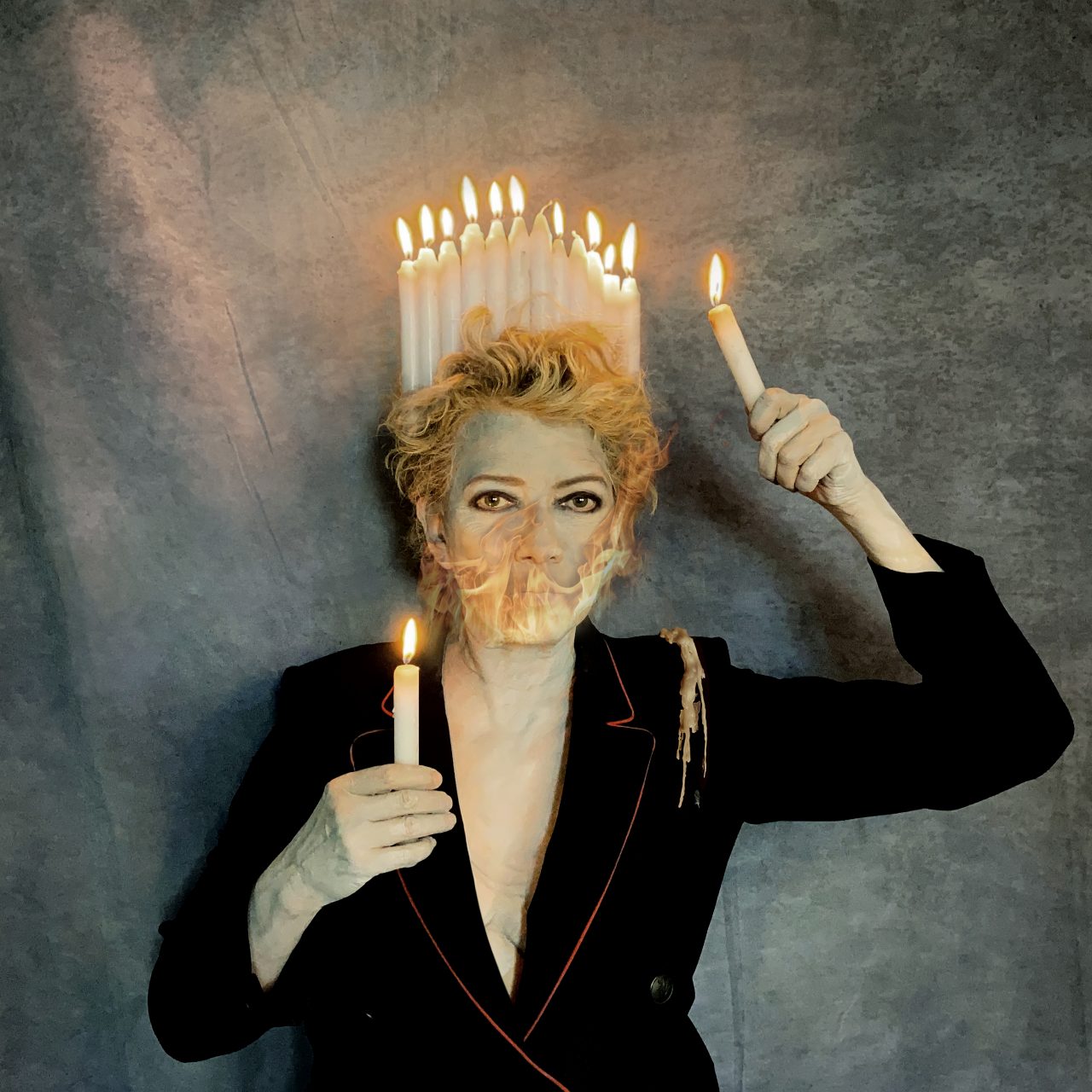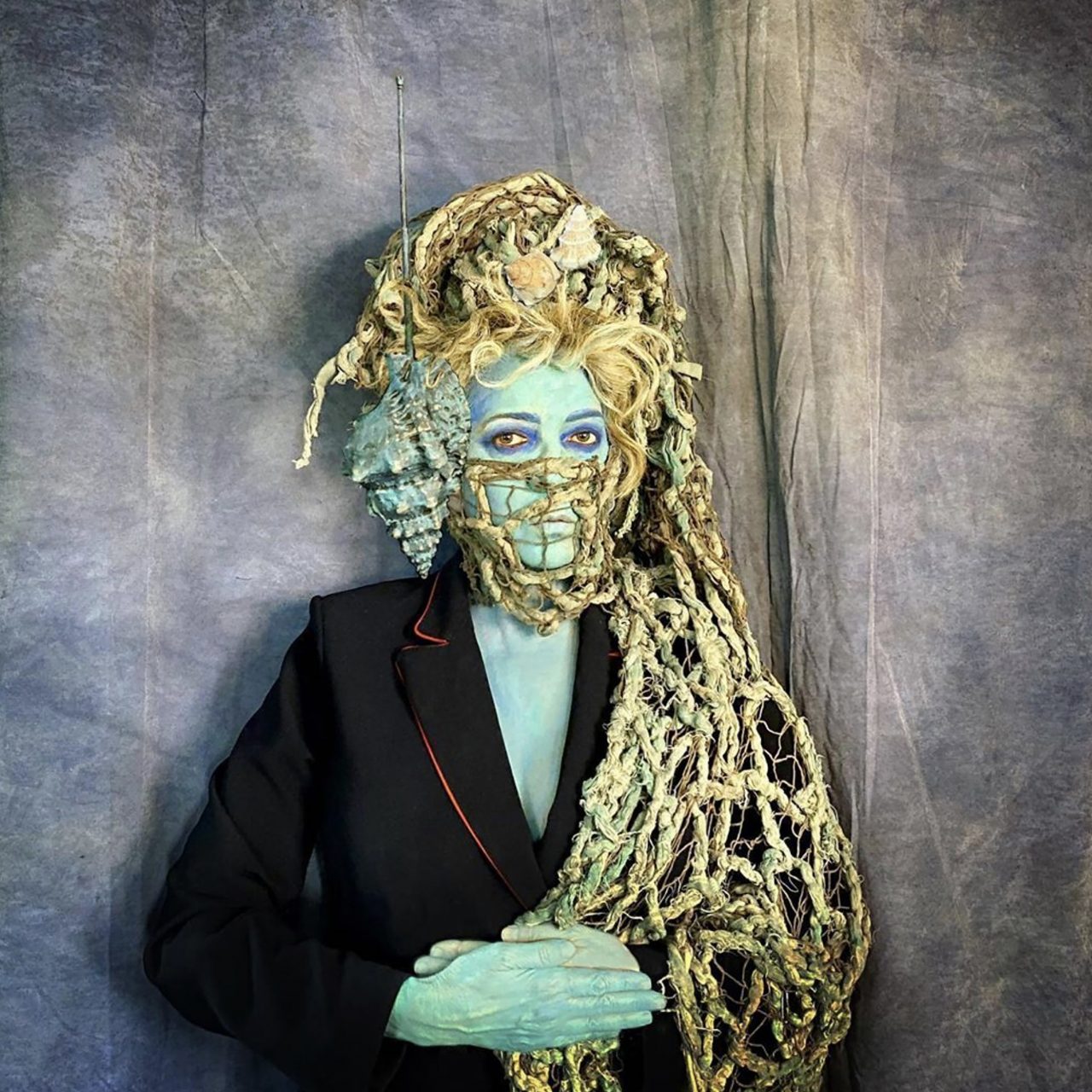 Hélène Guétary is a photographer, author and director. After publishing her photobook SKINDEEP, prefaced by Federico Fellini, and exhibiting during 12 years in New York City, she moved back to Paris. She has collaborated with ARTE, producing 165 films and innovative short programmes, including Moutons and the award-winning series Les Voyageurs du temps. She has directed documentaries, short films, fictions, immersive videos for the Opera and has published 4 novels.