Video by Ian Kennelly

Anne and Vincent Corbiere each excel in a specific creative technique: Anne is a textile designer/artist through weaving, and Vincent creates furniture and is a sculptor.

Their work – as master crafts people, artists, designers, editors of their own creations and those of other designers – flirts joyfully with boundaries so as to rendre them porous, thus avoiding the boxes and labels which could hamper their expression.

Beyond these creative activities, Anne transmits her knowledge and skills through the association, l'Atelier du Haut Anjou, which offers training in diverse textile design techniques. Both Anne and Vincent train apprentices in their workshops.

They have chosen the gentle Anjou region as their professional base, for their workshops and their home, where they each have their own separate creative space, but where they can also easily collaborate on the projets where the arts of textile and furniture design can be expressed together.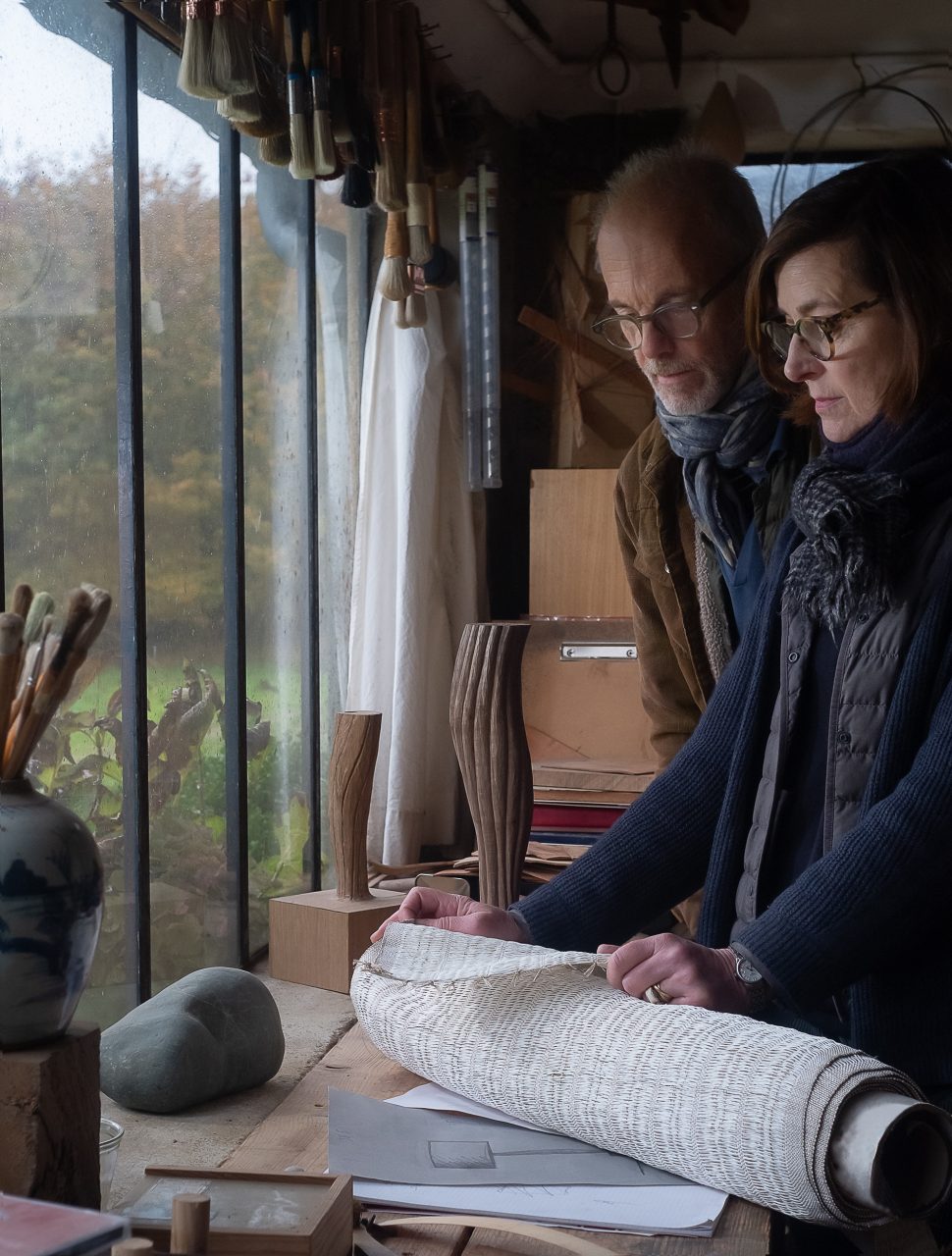 Anne Corbiere's Biography

Anne was born in Oregon. After completing a degree in French literature, she pursued her passion for textiles and fashion through working in costume workshops (theatre, opera, cinema) in San Francisco, London, and Paris. After working on projects for Peter Brook, Milos Forman…she chose to study textile design at ENSCI in Paris, before collaborating for the next ten years with Christian Lacroix on his costume projects, as well as creating fabrics for his haute couture collections. Dior, Givenchy, Balenciaga, Chanel followed. With encouragement from Pierre Passebon she began designing for interior decoration. After exhibits presented with Vincent in Paris and New York, architects and decorators – Peter Marino, Chahan, Michael Smith, Muriel Brandolini, Bismuth et Bismuth, Remy Tessier – began asking for her work. Her collection of interior decoration fabrics (Anne Corbiere Textiles) is presented in prestigious showrooms in Paris, London, NY, and L.A. Her designs are often seen in luxury boutiques and hotels, and she also works discretely for private projects, creating bespoke artwork and finished pieces.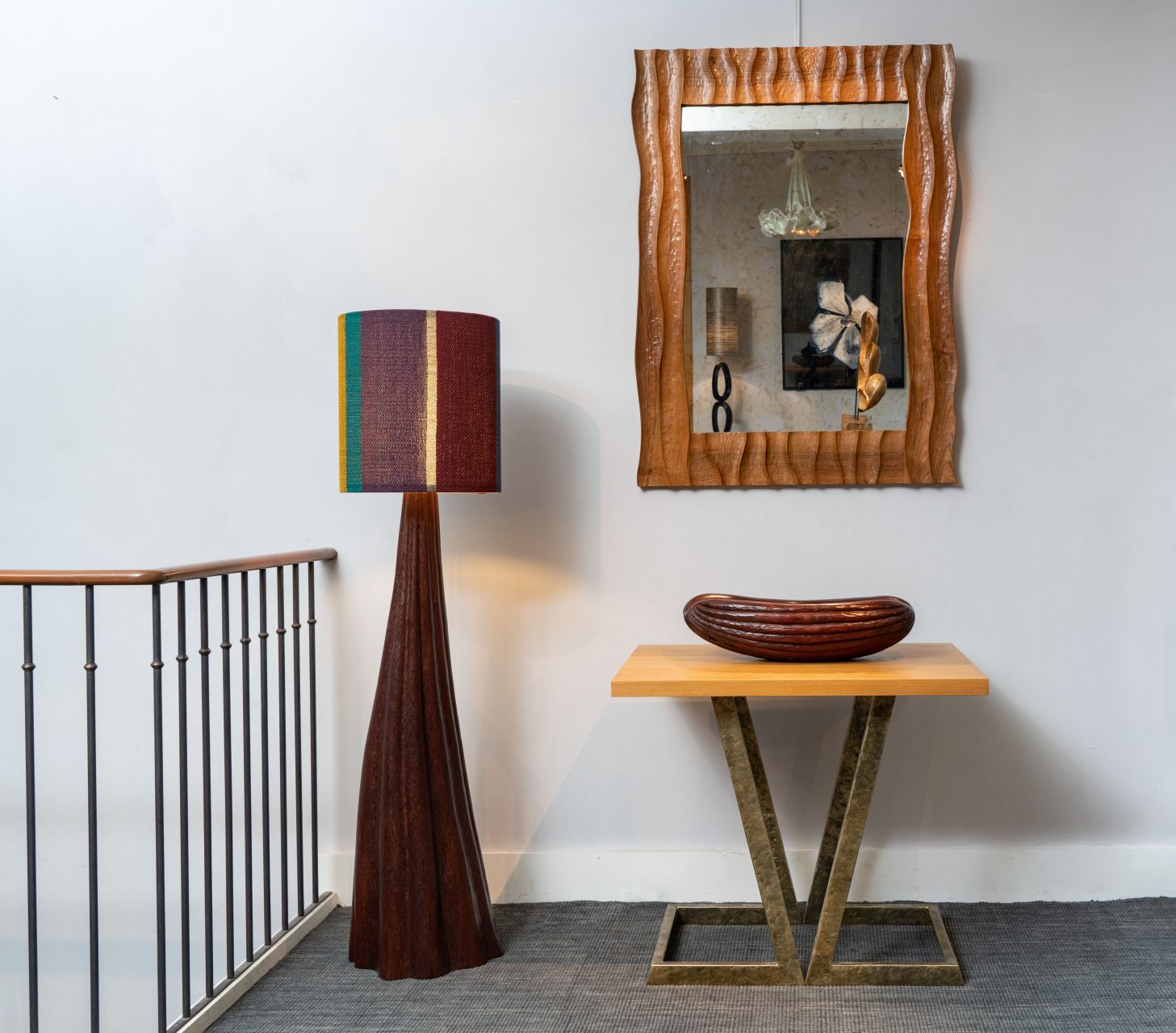 Anne, your American origins might make it complicated to describe your work using a traditional French context, in reference to textile techniques and inspiration. Would you say that the way in which these two different cultures define textile art has an influence on how it is expressed in each country? How would you define your own art?
I do very much feel that my approach to creating textiles is the result of the two cultures in which I have had the chance to live: American and French. Born in the northwest of the USA, I was first marked by the vision of my grandmother's loom – it was made of wood, and stood in a room flooded with sunlight. I can still picture the beautiful fabrics which she wove, in the tradition of the European immigrants from the mid 19th and early 20th century, using fine linen and woolen yarns, with touches of vintage lurex.
Even though only a young child at the time, I began to imagine living my adult life in that world of yarns, cloth, color, and light. Twenty years later, after completing a degree in French literature, and after working in costume shops in San Francisco and the Bay Area (theater being another passion), I listened to my instinct to return to Europe (where I had already lived several times, and also studied French). I think that somehow, I knew, without clearly formulating it, that I was lacking a visual vocabulary from the past. It felt necessary to immerse myself in the important design details, the centuries of architecture, the sophistication of street fashion, and the general « art de vivre » which one finds in Paris, and in Europe in general. I would indeed say that my personal esthetic today is the union of these two worlds: a distillation of popular, vernacular American techniques and the complexity of French savior-faire which has been refined over the centuries.
When you design a new fabric, and, like a composer, you interpret the partition of colored yarns to create a new fabric, what is your creative process? Do you have a precise idea of the final result? Is there an element of surprise? Is your approach to textile design different from somebody else's? If so, how? Are your creations very different when they are the result of a commission?
I always begin the design of a textile in accordance with what its purpose is in life. I love the « applied arts », the art we live with on a daily basis, because I want to enjoy life, every day, starting with the most simple things, like a dishtowel made of quality cotton or linen, freshly ironed. One of my on-going inspirations or subjects, is the « length of cloth ». Without any cutting or sewing, it can become a shawl, a pagne, a throw, a window shade, a seat for a sling-back chair, a rug, a wall hanging, an artwork…. or all of the above. But I also do anticipate what the cloth is intended to become because that will determine my choice of yarns, their density, their structure, which will in turn also define the feel and the drape and the resistance of the finished cloth. Next comes the choice of colors, and their rythmes. Since I enjoy most of all exploring and experimenting in my design work, there is always the surprise of the final result.
Collaborations and commissions are stimulating. The dialogue and exchange push me in new directions, and stimulate me to explore new paths. When I am at the loom, and when it is time to improvise, I feel like I am writing a partition, creating syncopated rythmes, or telling stories….
Teaching and « passing on » are very important parts of your relationship with your specific textile skills. So much so that you helped to co-found the Atelier du Haut Anjou which offers training in different techniques involving textiles. Could you share more with us about these training workshops, who participates, what they lead to , and how they impact the evolution of your craft?
I was raised in a family where education and the sharing of experience and knowledge were priorities. And, I was very lucky to meet people of incredible talent who believed in me, and offered me the chance to work for them. It is not possible for me to give back to these people what they offered to me in terms of opportunities and experience, but I can pass it on to others ….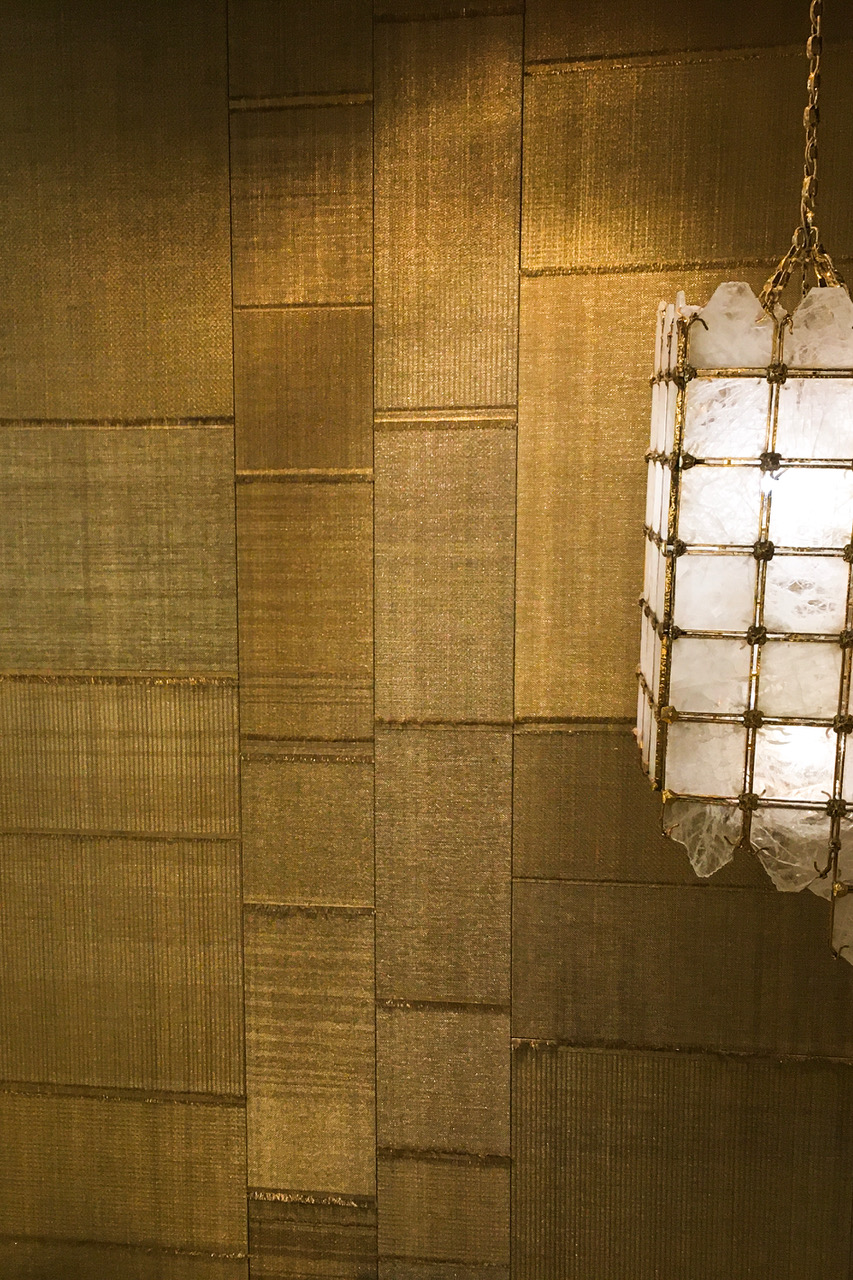 I now am responsible for the continuing education seminars concerning textiles, for l'Institut Français de la Mode in Paris. And in 2014, I co-founded with three other colleagues an association called the Atelier du Haut Anjou. Our intention is to share, to train, and to exchange about the textile crafts and design. We offer continuing education courses for adults, but also for those who seek to learn for their simple pleasure and/or passion. Recently we have begun a collaboration with the School of Fine Arts in Angers, which offers a specialization in textile arts. We have created together an artist residency in textiles.
You and Vincent create separately, but also together. What is involved in a creative partnership? Is it a different process than when you work alone?
Vincent and I grew up together, creatively speaking, and we dialogue regularly about how we perceive – and translate – the world around us. It is essential that we each have our distinct, creative universe, and this allows us to collaborate, with joy and enthusiasm, for our joint exhibits, and shared commissions. It has not always been simple, but over the years we have developed more design complicity, and our dialogue around the creative process has become another way for us to communicate with each other. I am always learning from Vincent; he has such a unique and singular way to observe the world, which he then translates to his designs.
Do you believe that the applied arts are essential to society?
I cannot say that they are « essential » compared to, for example, food and shelter. But that they exist as a natural part of society, yes. To seek the best and therefore the most efficient and esthetic way to create the objects which are a daily part of our lives with intelligence (function, durability, beauty, and design) has been and continues to be an important language in civilisations since the beginning of time.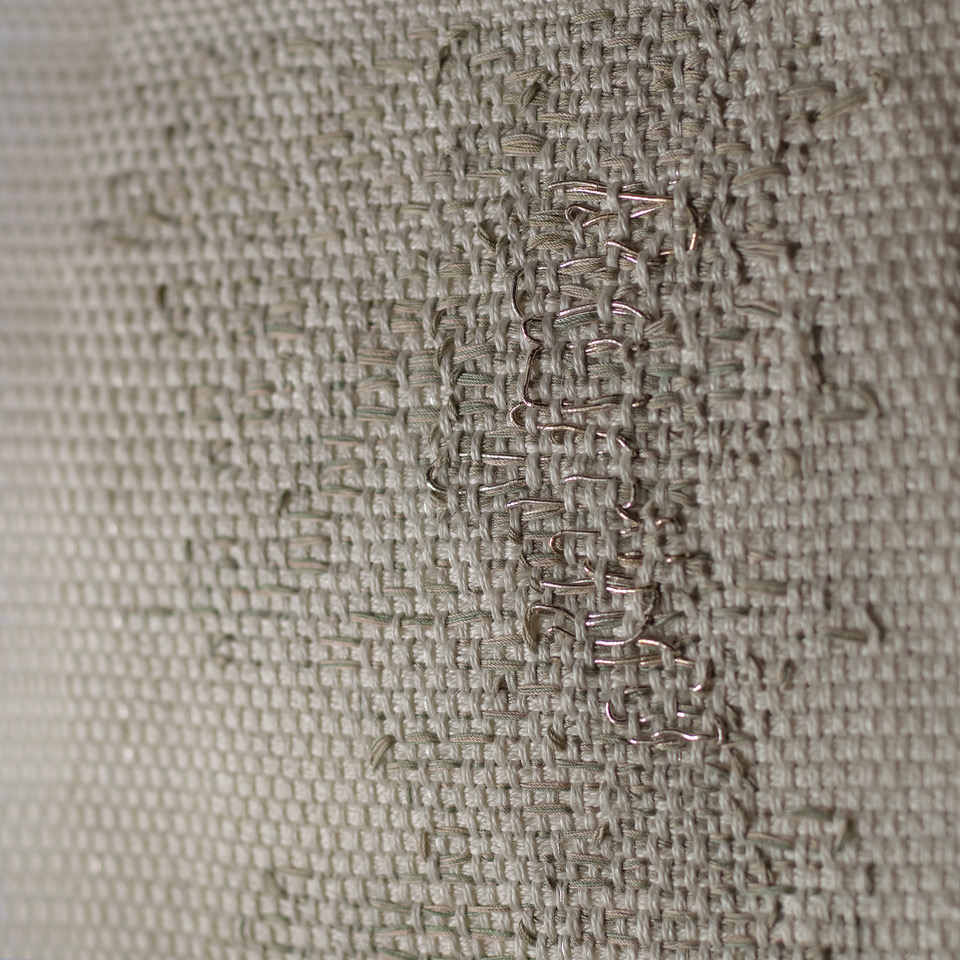 In your opinion, both generally, and, as applies to your own work, what is the difference between art and applied art?
The « fine » arts do not take into consideration functionality, and can even solely be concerned with an idea or a concept. The applied arts are an active part of life, conceived with art.
How would you define your position as an artist, applied artist?
I do not think that my position as an artist, applied artist, is really any different than other artists in so far as I seek above all to be sincere in my expression. It is more my personal vocabulary which defines my work, how I mix yarns, how I construct textures, improvise random rythmes, play on light…I consider that my work is baroque, or, in complete contrast, is a minimalist composition. For example, two visual influences which continue to inspire me over the years: the baroque scenographic universe of Peter Greenaway, and the works on paper by Hans Hartung. I love the visual abondance in Greenaway's world, and the graphic minimalisme in Hartung's.
Could you address the past, current or future creations which you would like to share with us?
After many years working in theater costumes, and designing fabrics for the Haute Couture, I became interested, through Vincent, in interior decorating. In the last ten years, I have explored, among other themes, an approach to textural, mural graphics. This exploration began with the creation of panels (each unique) composed of tweed-inspired textures in metal yarns for Chanel boutiques – as commissioned by the architect, Peter Marino. Currently, I am working on a series of ten « tableaux » in linen and metal which I brocade, and which are accented with embroidery by Maritza Reitzman. They will be framed in boiseries, inspired by the 18th century, for an iconic apartment in NYC as designed by Michael Smith. It is a pure joy to have the opportunity to create a complete work on this scale.
Vincent Corbiere's Biography

Born in Nimes, Vincent began his training with the French crafts guild, les Compganons du Devoir, in Nimes, and later, Montpellier, where he learned the centuries old skills and techniques related to wood working and cabinet making. Later he was drawn by his passion for music towards instrument making, and pursued a course in London to become luthier. He established his guitar making workshop in Paris, but after some years felt ever more drawn towards sculpture and furniture. The first pieces he created were presented by Pierre Passebon in personal exhibits at his gallery in Paris. Later followed exhibits with Anne Corbiere, at Passebon's Galerie du Passage, and also at Salon H in Paris, and Twenty First Gallery in NY. The pieces he designs and exhibits have inspired commissions from many architects and decorators: Jacques Grange, Alberto Pinto, Peter Marino, Chahan, Michael Smith, Muse Enterprises….as well as from private clients and collectors.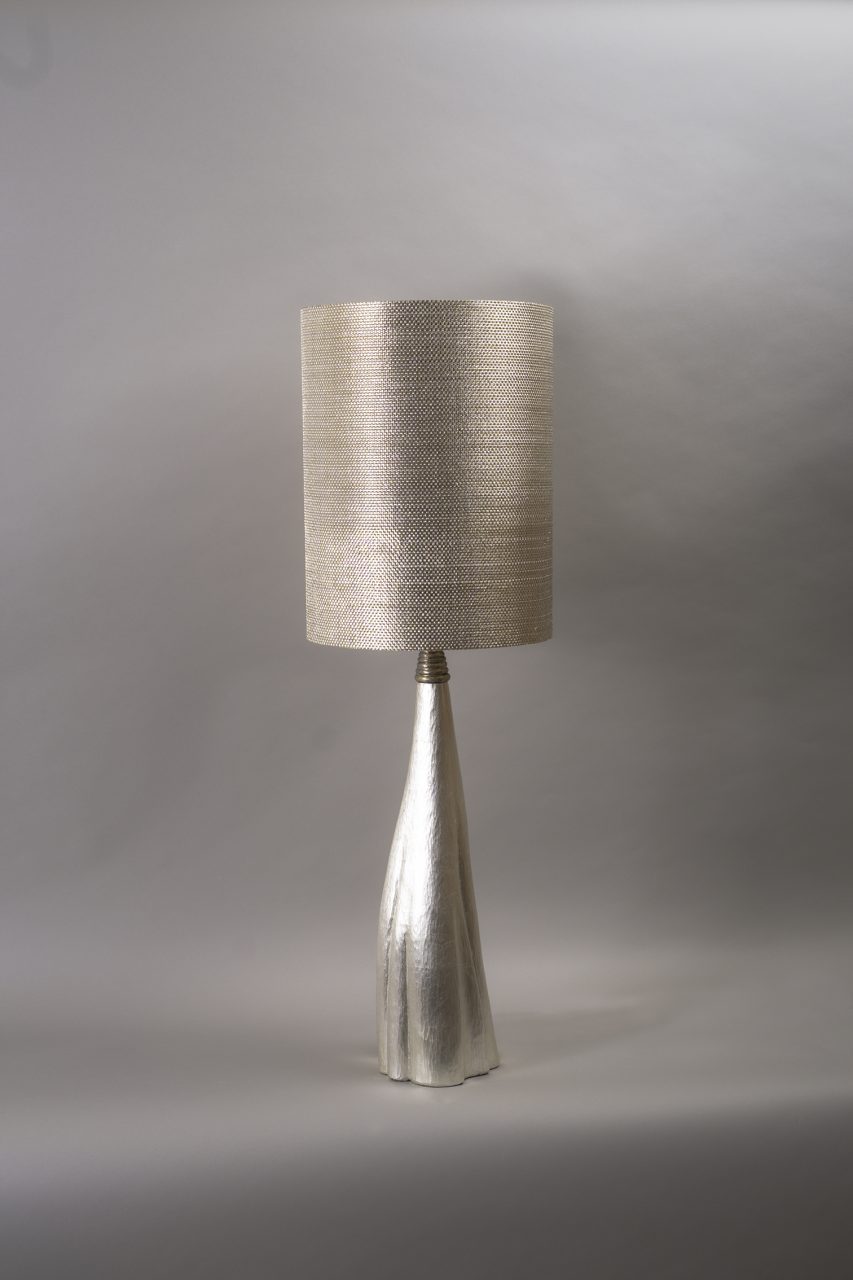 Vincent, you create your furniture as sculptural pieces, drawing on your initial training as a classical guitar maker, then as a cabinet maker. You use wood, but also other materials such as metal, fabric, stone, leather, paper, and glass. How would you define yourself?
When I think of my work, I see myself as an explorer. To create is to discover, and to explore. Seeking to make an idea become reality is like a game in which one guides chance, which is true of many aspects of life. But to answer our question more specifically, I am both artist and artisan. This is very important to me because these two activities are inseparable and complimentary.
Your creations transform raw material – those which exist naturally – by metamorphose, into furniture. What is your relationship with nature? How do you choose the materials you use?
Without consciously formulating it, I always have in mind Karl Blossfeld's approach to observing the diverse aspects of design in nature. Of course, his esthetic sensibility speaks to me, but more importantly I learned from him how to really look at my surroundings. I have chosen to live close to nature, far from the city. How I choose my materials for a given creation results from this attention to the world around me.
Your creative process is nurtured by your culture and you create work which is anchored in literature or history…..What are your sources of inspiration? How do you combine nature and cultural references in your work?
To be an artist means feeling both the necessity and the urgency to develop a personal vocabulary, which only exists for oneself. This unique language allows us to express ourselves in ways which the more universal modes of communication do not permit. This is what interests me the most in other artists, writers, film-makers, painters, musicians, etc. The singular expression of certain past or present artists nourishes me. Thus, it is through the elaboration of my own vocabulary by which I attempt to unite environment, circumstance, and result.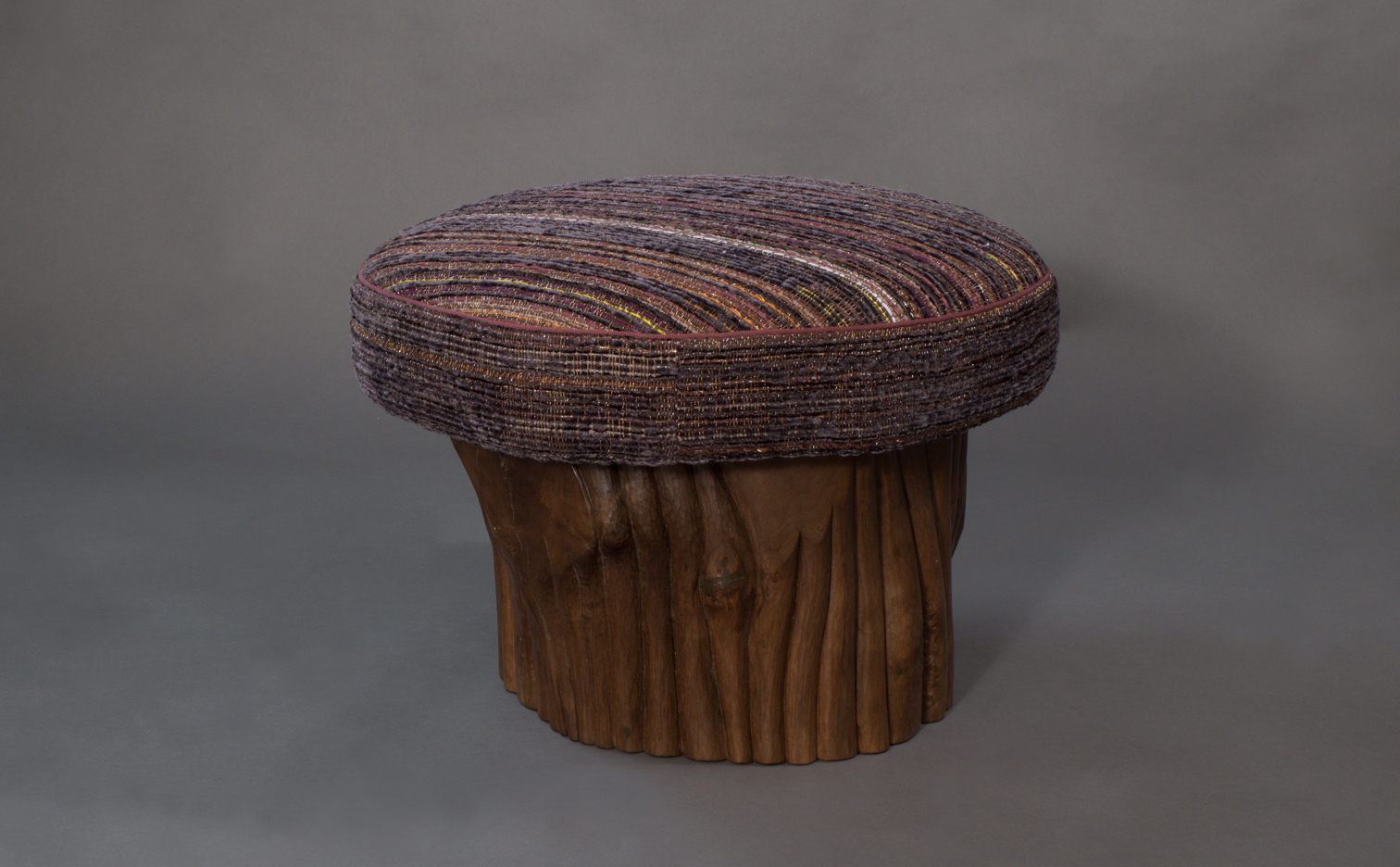 You create separately but also together. What is involved in the creation as a tandem? Is it very different from when you create individually?
Yes, we each have a personal design process, and combining our approaches is an opportunity which enchants us both. We work differently but are often surprisingly complimentary to each other. Working as a team requires a subtil balance. Sometimes one of us will go to see the other, seeking a solution, which will then suddenly appear, as if by magic.
Do you think that skilled crafts are essential to society?
Yes, craftsmanship is absolutely indispensable in a society in which civilisation is important. In all aspects of daily life, craftsmanship and skill are two notions which are inseparable when one evokes sophistication. A society in which craftsmanship is poor is a society which is poor.
In your opinion, concerning yourself and in general, what is the difference between art and craft?
As I mentioned above, craft is the indispensable vehicle for all artistic expression. For example, to master music theory is the craft of the composer. Mastery of words and their construction are the craft of the writer. In short, craft is the skilled knowledge.
In what way is your position as an artist – craftsman – editor, unique?
Is it unique? Yes, probably, because it is mine. But perhaps also because I cannot imagine imposing on myself only one form of expression. At present, as well as creating my sculptures and furniture, I am flirting with jewelry, photography, and writing. At other periods of my life, I was fanatically a musician, but also a painter and a luthier. Life is much too short. Art is one way to express that.